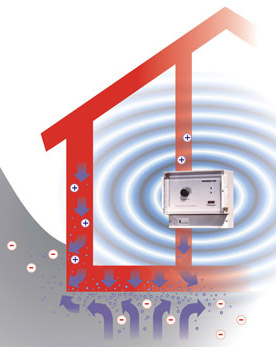 MURAG AG since 1985  –  Wall drying systems

Since 1985, our company has been producing fully electronic wall drying systems of our own European brand AQUAMAT™ with extensive experience and know-how based on the European Patent 0395085 an delivers to partners worldwide.
AQUAMAT™ works on the basis of reverse osmosis. Capillary ascending soil moisture is led back out of the masonry into the soil or exits on the wall surface and evaporates into the room air. The masonry subsequently dries gently. As long as the AQUAMAT™ dehumidifier is in operation, natural stone, concrete, bricks and masonry walls are reliably protected against capillary rising soil moisture.
An excerpt from the patent:
… The electronic wall dehumidification technology solves the task of dehumidifying the masonry system by means of reverse osmosis without any construction work and without the use of chemicals … ".
AQUAMAT™ is a brickwork-friendly process, which is particularly suitable for old buildings protected by historic buildings due to its gentle masonry dehumidification. The first installed AQUAMAT™ has been keeping a family home dry since 1989. The LCA of the procedure (UBP97) is positive.
Contact us at info (at) murag(dot)ch.